Personalized electric toothbrush can be used as merchandising by travel agencies, as amenities in hotels and resorts, or to advertise in dental clinics and businesses related to oral care. So that you have variety, we present you with a good collection of models: folding toothbrushes designed for air travel, sonic brushes with built-in bases and even some models that are included in individual boxes. In any of the cases, you can integrate your logo on the toothbrushes by screen printing or laser. With screen printing you will have very intense colors that will improve your brand image while the laser will leave very delicate and attractive finishes. It is a very suitable gift to use during our holidays, and people will use it by taking it with them in their toiletry bags.

How to choose personalized electric toothbrush? To create an advertising campaign with personalized electric toothbrush you need to have variety. You'll need collapsible toothbrushes for workers who travel frequently; but if you want to give them to the smallest of the house you will need children's models for children. You can also sell them in your business as a hygienic item for daily use, so we have models that come in their own box to improve presentation.

In any case, we assure you a great variety that will respond to these characteristics:
• Colors. You will have different colored toothbrushes to perfectly match your logo.
• The quality of our toothbrushes is reflected in the use of good materials that will stand the test of time. Offering merchandising that lasts is key to any marketing technique.
• Personalization options. You will be able to capture your logo, slogan or characteristic phrase without complications. We have several marking techniques with which you will achieve a quality marking that allows you to highlight your corporate image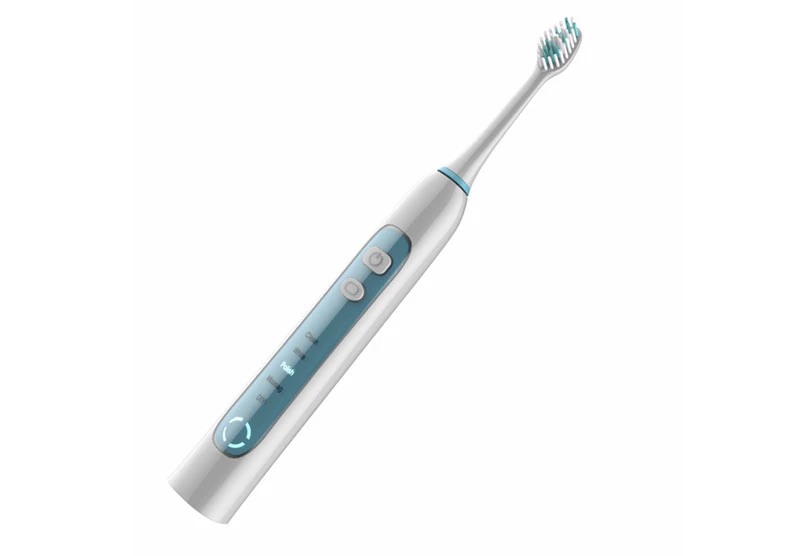 Cheaper electric toothbrush as you go up
There are few websites that offer personalized electric toothbrush. Being a manufacturer, we have a scalar price system that will reduce the unit price of toothbrushes when you go over 50 units . This will allow us to have the cheapest prices possible so that you have a greater margin to achieve a really attractive customization. The objective is to reach the homes of all people with these basic necessities and make them aware of your brand image, or as a reminder of the services you offer.
Why bet on personalized electric toothbrush?
Marketing experts say that one of the best ways we have to reach the potential customer is to take a look at those things that they can use on a daily basis, and add some kind of differentiating element to them that helps them remember our company. personalized electric toothbrush are one of them since we use them daily to offer the best smile and maintain adequate oral hygiene that avoid visiting the dentist.
So that you can choose the most suitable model, we have at your disposal a wide variety of cheap toothbrushes so that you can carry out an advertising campaign with great success.
If you are interested in giving these toothbrushes as a gift, you may be interested in purchasing a product from our oral care set, where you can purchase incredible batches of daily hygiene products at factory prices.
FAQ
Can you use electric toothbrushes if you have a pacemaker?
Many electrical devices impair the function of a pacemaker and may therefore only be used at a sufficient distance or not at all. You don't have to worry when using a sonic toothbrush or electric toothbrush. According to the German Heart Foundation, they are just as harmless as a hair dryer, shaver or curling iron.
Can children use an electric toothbrush?
Even children's mouths can get to know an electric or sonic toothbrush from the age of 3 years. It is even recommended, because children still have to learn the right technique and how to keep to the optimal cleaning time. Electric toothbrushes support this, for example with great Disney melodies that motivate your children. When the melody is over, the electric toothbrush can be put aside. There are other highlights, such as colorful stickers or signal tones that add variety and help with brushing your teeth. It is important that the bristles are particularly rounded and soft, otherwise there is too much risk of injury. There are extra electric toothbrushes for children from both Philips and Oral B.
Can I use an electric toothbrush after wisdom tooth surgery?
Basically yes, but we recommend using a manual toothbrush until the wounds have healed. The risk of accidentally getting wounded while cleaning is too high. With a manual toothbrush you can carefully brush around the wound and decide for yourself how much pressure you want to apply.
How do you clean an electric toothbrush?
Bacteria from the mouth, toothpaste and dust from the bathroom collect on the brush head and the handle after every brushing. It is therefore very important to regularly clean not only the brush heads, but also the handpiece and the base station.
You should wash the brush head and the handle thoroughly under running water after each use to remove toothpaste and leftover food from both. If you want to be really thorough, you can soak the brush head in a cleaning solution made for braces or dentures once a week.
The handpiece and base station should be thoroughly cleaned with a vinegar solution once or twice a month.
How often do the brush heads need to be replaced?
The brush heads should be replaced every two to three months as use causes bacteria to build up in the bristles and the bristles naturally wear out.
Philips toothbrushes have a reminder function in the app that tells you exactly when it's time for a new brush head. On the other hand, Oral B toothbrushes have a special brush head whose bristles change color when they are worn. They call themselves memory bristles.
Does an electric toothbrush help reduce bad breath?
Yes and no. Bad breath can have many causes. For example, bad breath occurs with colds or gastrointestinal diseases. But bad breath is also caused by deposits in the spaces between the teeth or on the gum line. Since both are cleaned much better and more intensively with an electric toothbrush, unpleasant bad breath caused by deposits in the gaps is reduced.
Can you also use an electric toothbrush as a wearer of braces?
Not only can you, you should. In cooperation with dentists, Oral B has developed special attachments only for those who wear braces, since
the narrow spaces between the brackets in particular are a real invitation for food residues and bacteria. They can only be cleaned in a very cumbersome and time-consuming manner. With a rotary or sonic toothbrush and the appropriate attachments, you no longer have to struggle with it. It's quick, easy and really effective.
Can an electric toothbrush prevent periodontal disease?
Actually very good. The development of periodontal disease is a long process in which many factors are involved. One of them is plaque that is not thoroughly removed. They cause tartar to form, which in turn leads to receding gums if not professionally removed regularly. The exposed tooth necks are defenseless against invading germs and the degradation of the bone substance begins.
An electric toothbrush not only thoroughly cleans the teeth, but also the areas on the gums and between the teeth where harmful plaque accumulates. With regular and thorough use, you reduce tartar formation and can protect yourself from periodontal disease. Electric toothbrushes are therefore highly recommended as periodontal prophylaxis.