Relish is located in Shenzhen, China, and is a company that focuses on the development, production and sales of oral care products. Our products cover sonic electric toothbrush, rotary electric toothbrush, children's electric toothbrush, water flosser and related accessories, etc. All of our products have passed FDA and CE certifications. Below are some of our water flosser/oral irrigator products wholesale price display, affected by market conditions, the price may fluctuate, For details, please consult us through the contact information on the website, thank you.
Adopting 2021 Latest Water Flosser Pulse Technique, 30-120psi Pressure Range, 1700 Times/Min Pulse Rate, 360 rotating Long Nozzle, Low, Medium, High, Pulse, DIY, 5 Deep Clean Modes With Low-Noise Design, High Intensity Pulse Water Column Cleans Away 99% of Teeth Stain that traditional brushing and flossing Cant Reach. Its Perfect for anyone With Braces, Implants, Crowns, or Periodontal Pockets.
Relish water flosser is equipped with various nozzles, can be used with your family. It also has a 360rotating nozzle design, specially designed for periodontitis, braces, dental implant. Our portable oral irrigator prevents various oral health problems such as bad breath, tooth decay, bleeding gums and yellow teeth.
IPX7 waterproof large 280ml water tank provides sufficient water for teeth cleaning. You can also add water by the smart hole design, no need to remove the water tank. At the same time, the removable water tank can thoroughly clean the internal dirt. IPX7 Waterproof design prevents water leakage can be used in the bathroom shower.
"water flosser" that removes dirt and tartar between teeth and periodontal pockets with the power of ultra-high-speed jet water flow and ultrasonic waves. It's a popular product, also known as a oral irrigator, but why not make it a new habit?
Do you know "oral irrigator"? This product, also known as "water pick". It is a mouse care item that sprays high-pressure water in your mouth to remove dirt between teeth and periodontal pockets that cannot be removed with a toothbrush or floss alone.
The history of household oral irrigators is surprisingly old and has been on the market since the 1970s. It has become commonplace in the last few years. Major manufacturers such as Panasonic and Philips have entered the market, and in addition to orthodox deferment, handy types that do not take up space are also appearing.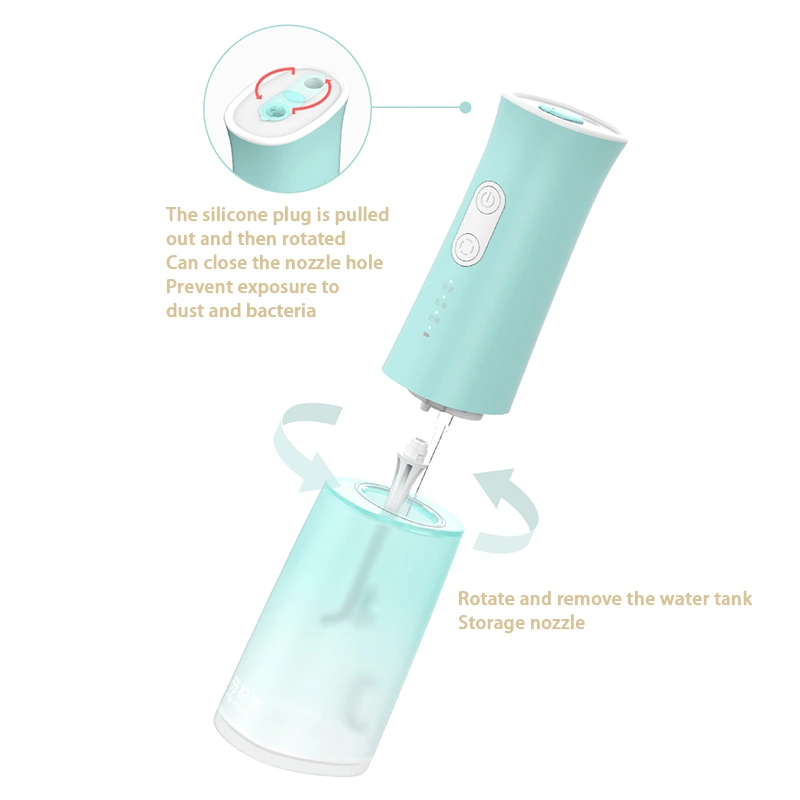 Three effects of oral irrigator
An oral irrigator that is a truly epoch-making item that can remove stains on teeth that cannot be removed with a toothbrush alone. Shouldn't we rely on this more? So let's reorganize what kind of effect it has.
Suppress bad breath
One of the main causes of bad breath is the increase in periodontal disease bacteria that nourish the plaque left on the teeth. The reason is that it is actually impossible to remove all plaque by relying solely on brushing with a toothbrush.
Many dentists point out that even if you brush carefully with a toothbrush, plaque can be removed at most about 60%. If this theory is correct, that is, many people finish brushing their teeth with more than 40% of the remaining plaque left. And it is also true that many dentists recommend using an interdental brush or floss together.
As the docotor said, it's a good idea to remove the plaque left over with an interdental brush or floss. But here, let's aim for even higher. Try using an oral irrigator in addition to toothbrushes, interdental brushes and floss.
With this in place, you will be able to aim for the ideal plaque removal process. If you remove the plaque as thoroughly as possible, you can suppress the growth of periodontal disease bacteria and you can expect great suppression of bad breath.
Reduce the risk of periodontal disease
If you use an oral irrigator, you should be able to remove plaque, which is the food for periodontal disease bacteria, more than ever. Therefore, the probability of getting periodontal disease can be reduced.
Periodontal disease bacteria also enter the "periodontal pocket" at the base of the tooth. The periodontal disease bacteria here are said to be 2 to 60 times more toxic than other periodontal disease bacteria in the mouth. In addition, it is difficult to remove with a toothbrush, and it is a very troublesome existence.
Make tartar difficult to form
Calcium in saliva is deposited in plaque, making it hard and difficult to remove. It is called "tartar". Therefore, by using an oral irrigator together with the usual toothpaste, it can be expected that plaque in the mouth will be significantly reduced, and it can be said that "tartar" is also less likely to occur.
Bad breath, periodontal disease, tartar ... All are mainly caused by leaving plaque unattended. Therefore, if you use an oral irrigator to remove plaque that cannot be removed with a toothbrush and an interdental brush or floss, you can aim for healthy and beautiful teeth without odor.