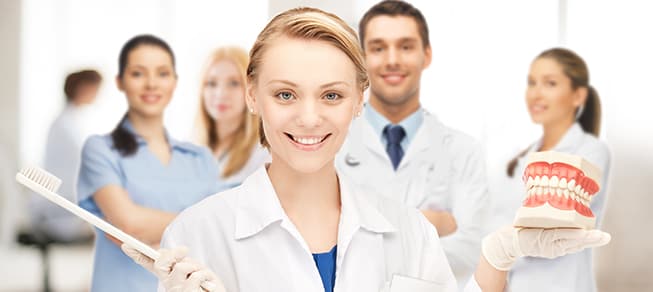 Dental care is known to be very important, but which
electric toothbrush
es do dentists recommend? I'll show you the 5 favorites of dentists and dental prophylaxis experts. First things first - good dental care and dental prophylaxis are feasible for every budget, because good electric toothbrushes are also available for little money ...
Why electric toothbrushes?
Before we tell you which models are the best, however, here is some information about electric toothbrushes. An electric toothbrush:
Cleans more effectively and thoroughly
Can be used easily and by anyone
Is gentle on tooth enamel and gums
Usually has a built-in timer
Sonic toothbrush or electric toothbrush
Sonic toothbrush or electric toothbrush
Whether it is an (ultra)
sonic toothbrush
or a conventional electric toothbrush depends not least on personal taste. At the end of the day, all models are electric toothbrushes. The difference is that conventional electric toothbrushes are oscillating-rotating and have round brush heads, while sonic toothbrushes have elongated brush heads and vibrate. As with so many things in life, there are a number of different opinions and preferences - even among dentists. The fact is: in terms of cleaning performance, neither of the two variants offer clear advantages. The individual cleaning behavior most likely plays a role here.
Which electric toothbrush do dentists recommend?
In my many years of work in various dental and orthodontic practices, the topic: the best electric toothbrush, ultrasonic toothbrush and sonic toothbrush was often an issue. As everywhere in life, there are also different opinions and preferences, including among dentists and prophylaxis experts.

Although, in my experience, dentists are by far not as intensely concerned with the subject of dental care and prophylaxis as their employees. But there are certainly practical reasons for this: the dentists are more concerned with tooth preservation and dental diseases (fillings, crowns, periodontitis, etc.) and the assistants with teeth cleaning and prophylaxis ...
During my research I asked some dentists, orthodontists and prophylaxis experts about their preferences and the following 5 electric toothbrushes came out as recommendations .
These 5 electric toothbrushes recommend dentists:
Electric toothbrush recommendation 1: Philips Sonicare Protective Clean 4300
Which electric toothbrushes do dentists recommend? Example: Sonic toothbrush from Philips ...
Inexpensive SOUND TOOTHBRUSH with pressure control - protects the gums and cleans the teeth sparklingly clean
Philips Sonicare ProtectiveClean 4300 electric toothbrush HX6807 / 51 - sonic toothbrush with clean cleaning program, pressure control & timer - white *
Gentle and effective cleaning thanks to Sonicare sonic technology with 62,000 brush head movements per minute and a unique flow of fluid - gentle on teeth and gums
Up to 7x more plaque removal compared to a manual toothbrush with the Optimal White brush head / 1 cleaning program for effective cleaning
For gentle cleaning, the pressure control signals that the pressure is too firm when cleaning with a slight vibration
Automatic display for changing the plug-in brush ensures optimum cleaning performance / change every 3 months is recommended
Scope of delivery: 1x sonic toothbrush, 2x W2 OptimalWhite brush head, 1x charging station, white / 2 intensity levels & up to 2 weeks of battery life
I used this Philips sonic toothbrush myself for a few months and was very satisfied! It is gentle on the gums and has a pressure control. This prevents you from pressing too hard when brushing your teeth. It is also very inexpensive for a sonic toothbrush.
Dentist recommendation 2: Oral-B Genius 10000
TOP electric toothbrush rotating with pressure control and Smartring - makes the teeth super clean and is pleasant for the gums thanks to the pressure control.
Oral-B Genius 10000N electric toothbrush with gum protection assistant and premium charging travel case, orchid purple *
With gum protection wizard: shows you the areas where you are applying too much pressure to prevent gum problems
Up to 100% healthier gums and more plaque removal compared to a conventional manual toothbrush
Sensi UltraThin brush head: Gum protection bristles with ultra-thin tips gently clean the gumline without irritation
With the unique position detection technology so as not to forget any area of ​​the jaw
Never run out of battery again: Up to 2 weeks of battery life with a premium charging travel case for charging your toothbrush and smartphone with just one plug
The electric toothbrushes from Oral-B knows by now probably already every child ... But it also has a reason that these electric toothbrushes are often recommended by dentists and prophylaxis experts. The Genius 10000 also has a pressure control with which you can control the pressure on the gums. If you press too hard, the smartring will glow red. You can even see that without a mirror ...
Recommendation 3: Philips Sonicare ExpertClean
Here we have another sonic toothbrush from Philips. Of course there is again a pressure control and additionally 3 speeds in addition to the 3 programs. And here is really something for everyone ... Perfect for sensitive gums, fixed braces and white teeth ! This makes dental care really fun. This electric toothbrush became my 2020 test winner among sonic toothbrushes ...
Philips HX9601 / 03 Expertclean 7300 Electric toothbrush with sound technology, pressure control, travel case white *
Up to 10x more plaque removal and 7x healthier gums compared to a manual toothbrush
Gentle cleaning with the pressure control, which warns of excessive pressure
Individual cleaning thanks to 3 cleaning programs and 3 intensity settings
Automatic recognition of the brush head thanks to the microchip
Automatic change display of the brush head after wear for optimal cleaning performance
This Philips electric toothbrush is also recommended by dentists. Because it is particularly gentle on the gums and still makes the teeth super clean ...
Electric toothbrush recommendation dentist: My conclusion
I have tested all of these 5 electric toothbrushes on myself and can therefore recommend them to you with a clear conscience. In my survey of various dentists, orthodontists and dental assistants (or dental assistants), these 5 models were recommended several times. I think no matter which electric toothbrush you choose, you are definitely right with these models.
As a professional manufacturer of electric toothbrush and oral irrigator/water flosser, Shenzhen Relish provides various types of electric toothbrush wholesale and OEM customized services. You can also wholesale water flosser/oral irrigator from Relish at factory price. We can provide you highly competitive prices and look forward to working with you.