The price of a rechargeable electric toothbrush is more expensive than that of a battery, but the difference is that one is charging and the other is using a dry battery? In fact, there are functional differences.
1. Rechargeable electric toothbrushes generally use lithium batteries, because the electric quantity is sufficient and the attenuation speed of electric quantity is slow, so the vibration effect will be better than that of dry batteries; 2, the charging model has circuit board for charging management and charging protection, so it usually has the function of adjusting vibration intensity; 3. The battery of the charging model is sealed inside the body, unlike the dry battery which needs to be disassembled and replaced, therefore, the waterproof performance is better than that of the battery.
Electric toothbrush is a toiletries, but it is also an electrical appliance, which has requirements for water proofing. Because water entering the machine body may mean that the toothbrush is scrapped, and most of the electric toothbrushes are IPX7 waterproof now. The battery type means changing the battery frequently and disassembling the body frequently, which will certainly reduce the waterproof property of the electric toothbrush. The bathroom is relatively humid, and the water vapor entering the interior of the machine body will easily lead to the rusting of the circuit board and corrosion, and the battery life will be greatly reduced. If the residual toothpaste accumulates for a long time, it will not only easily breed bacteria, but also reduce the effect of waterproof rubber at the interface position, and the service life of the electric toothbrush will also be reduced.
At present, most electric toothbrushes are charged by base, USB and typ-c, and the battery life ranges from one week to half a year. Business people who often go on business trips suggest to buy those with long battery life, for home use, we do not recommend short battery life.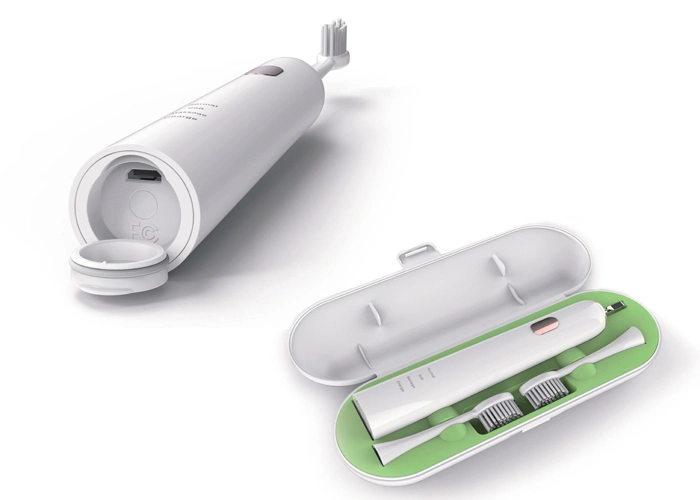 This is the general difference between rechargeable electric toothbrushes and battery electric toothbrushes. There are few battery electric toothbrushes on the market now, and they have been gradually eliminated.
As a China Manufacturer, supplier, factory of electric toothbrush and oral irrigator/water flosser, Shenzhen Relish provides various types of electric toothbrush wholesale, dropshipping and OEM services. You can also wholesale water flosser/oral irrigator from Relish at factory price. We look forward to working with you.