Unfortunately, few people know what an oral irrigator is and what it is used for, and in the list of regularly used oral hygiene products, most of us have only a brush and toothpaste. Today we will talk about what oral irrigators are, their types. In the article you will find expert advice on how to choose an oral irrigator for the oral cavity, which oral irrigator is better: stationary or portable, and at the end you will find a small overview of the most popular models of oral irrigators.
What is an oral irrigator?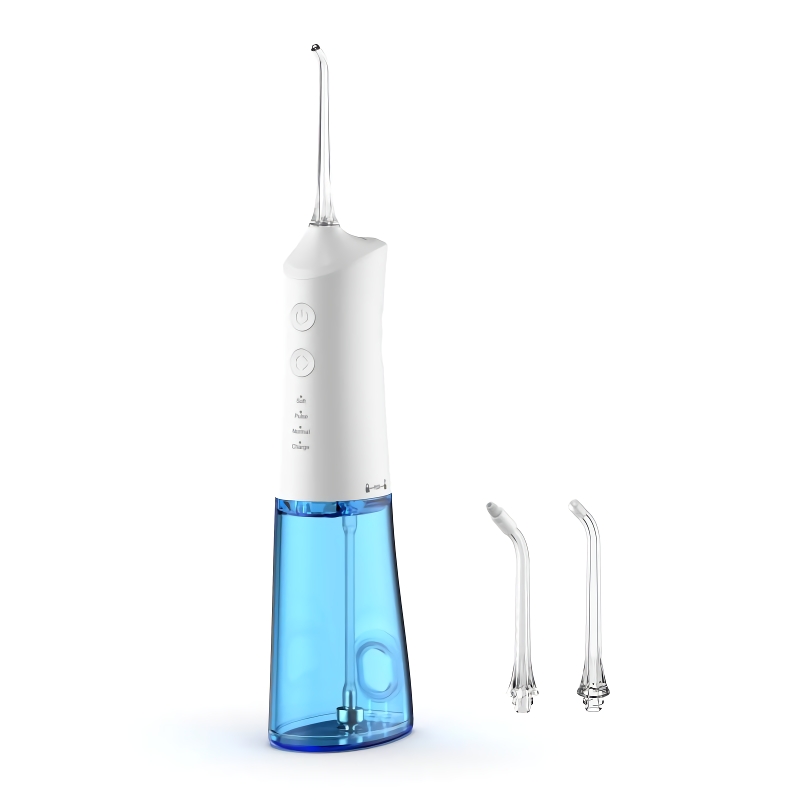 Brushes and toothpaste are a mandatory minimum that provides oral care, but their capabilities are limited. The most inaccessible places in the mouth are the interdental spaces and the area between the teeth and gums. Not enough attention is paid to root teeth and the inside of the teeth. So it turns out that even with regular use of the brush, a plaque consisting of more than twenty species of microorganisms accumulates in the human mouth. The results are obvious – caries, tartar, gum inflammation.
For the care of hard-to-reach areas in the mouth, a large number of tools and devices have been developed, and one of the most popular is the oral irrigator. This is a device for cleaning teeth, which with the help of a stream of water or a medicinal solution washes out food residues and plaque from the most remote areas of the oral cavity. The liquid is supplied under pressure, so in addition to a good cleansing effect, the oral irrigator allows you to carry out a light massage of soft tissues, which improves blood circulation in them.
Among the recommendations of dentists, you will definitely find those that will talk about improving the effectiveness of hygienic procedures with the help of an oral irrigator. The combination of traditional hygiene methods using an oral irrigator is a guarantee of the health of the entire oral cavity.
How does the oral irrigator work?
The liquid is fed into the oral cavity through a nozzle under a pressure of 0.7-4.8 bar. To do this, the device is equipped with a tank, into which water or a therapeutic solution is poured before its use. The liquid is supplied in the form of a jet or in the "shower" mode, a constant or pulsating stream.
The maximum cleansing effect is achieved in the jet mode of the oral irrigator - it allows you to remove food residues and plaque from the surface of the teeth, from the interdental spaces. Soft tissue massage is carried out in the "shower" mode and allows you to normalize blood circulation, which contributes to the improvement of the gums, tongue, mucous membranes, creates a refreshing effect.
For procedures, purified water or specially prepared solutions with a therapeutic and prophylactic effect (balms, solutions with antiseptic properties, etc.) are used. As you know, the cause of the development of caries, periodontal diseases, bad breath are pathogenic bacteria, to combat which ordinary water is not enough.
According to studies, regular use of an oral irrigator reduces the likelihood of bacterial plaque by 25%, caries by 26% and increases the effectiveness of oral hygiene procedures by at least 50%. As for such a popular tool as dental fisting, the oral irrigator is ahead of it in efficiency by more than 90%.
Indications for the use of an oral irrigator
oral irrigators are universal devices, there are no contraindications for their use. Main indications:
Prevention of caries. The device is effective for cleaning the surface of teeth, tongue, gums from plaque and food residues. A jet of liquid, pressurized, cleans the most inaccessible areas: molars, gaps between teeth, orthodontic structures, thereby preventing the reproduction of pathogenic microflora, which is the main cause of caries, bad breath.
Prevention of gum disease. Soft tissue massage is a good preventive and therapeutic agent. Massaging the gums, we improve blood circulation in them, regeneration processes, reduce their bleeding.
Installed orthopedic and orthodontic structures. Due to the presence of implants, crowns, prostheses, braces in the mouth, favorable conditions are created for the reproduction of pathogenic microflora. It is possible to clean hard-to-reach places with the help of an oral irrigator.
Prevention of gingivitis. The disease occurs due to circulatory disorders in the mucous membranes of the oral cavity.
Types of oral irrigators for the oral cavity
The oral irrigator manufacturers produce two main types of oral irrigators:
models with built-in hydraulic pump;
connected to a centralized water supply system.
The first group of devices is divided into stationary and portable (road) oral irrigators. Stationary are connected to a centralized power supply network with a voltage of 220 W.
The main differences between stationary oral irrigators and portable ones, and their advantages:
high power (this parameter is almost always in 1st place);
the ability to adjust the jet pressure in a wide range of values;
complete set with a large number of nozzles;
collapsible design, which allows you to keep the device clean.
In portable (mobile) oral irrigators, a built-in power supply is most often used. Their main advantages are low weight, compactness, convenient transportation. Among the disadvantages: insufficient power, the need to replace batteries or recharge batteries, a small volume of the tank for liquid.
oral irrigators that are connected to the water supply are used less often, since water in centralized systems rarely meets the requirements that make it suitable for such procedures.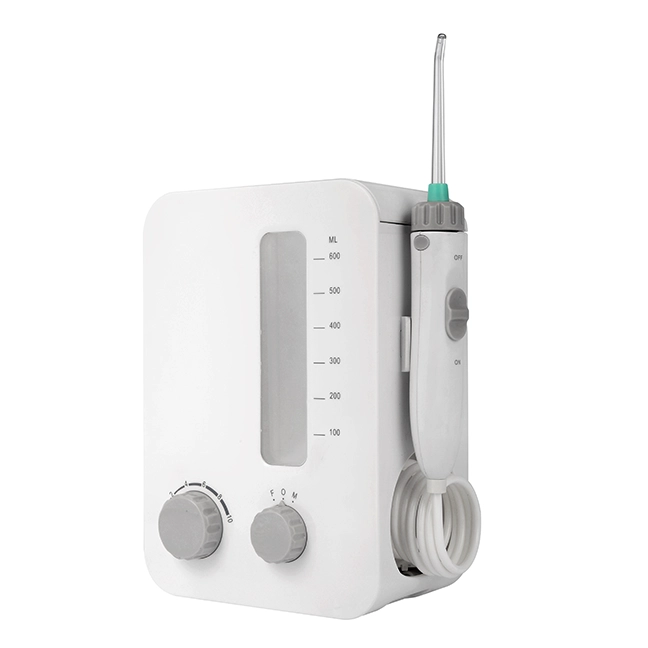 Modern models of oral irrigators support three modes of jet supply:
continuous;
pulsed;
microvesicle.
The latter technology is considered the most promising. The device mixes air bubbles into the fluid stream, so that plaque and food residues are removed more efficiently. In addition, aerated jets have an adverse effect on pathogenic microflora.
Types of nozzles for oral irrigator
Before moving on to the next section of our article, in which we will tell you how to choose an oral irrigator, consider another important factor in choosing - nozzles. All existing nozzles can be divided into standard and special. The first are used for daily procedures and provide minimal hygienic care for the oral cavity.
Special are divided into several categories, depending on the purpose:
Orthodontic - they combine the positive characteristics of a toothbrush and an oral irrigator. They cope well with cleaning from plaque of closely spaced teeth, as well as braces - first mechanical cleaning is performed, followed by washing.
Periodontal - equipped with a soft narrowed tip, which allows you to direct the jet to the gingival edge and into the gingival pocket.
For brushing teeth – work as electric toothbrushes and can be used with paste.
For implants - tips of different shapes and sizes, providing care for structures of any complexity.
For the tongue - made in the form of a rounded shoulder blade and allow you to remove plaque from the sky and the inner surfaces of the cheeks.
For the nose - irrigation nozzles for the prevention and treatment of rhinitis. Equipped with two tips: one for supplying a washing jet of liquid, and the other for spraying a therapeutic solution.
How to choose the right oral irrigator for the oral cavity
So, an oral irrigator for the oral cavity - which is better? To answer this question, you need to identify your needs. Which oral irrigator to choose for the house? For home use, it is better to give preference to stationary models, the advantages of which we described above. If the device will be used by several family members, choose oral irrigators with a large number of replaceable nozzles.
Portable oral irrigators are indispensable for those who travel a lot. They are also suitable for those who do not have the ability to connect the device to a centralized power supply network. Stationary and road oral irrigators have differences in the control system. Stationary models are most often equipped with smooth jet pressure regulators, and in portable models the pressure changes mainly in stages, and the number of operating modes is limited.
The table shows the comparative characteristics of portable and stationary oral irrigators, which will tell you which oral irrigator to buy for the house, and which for long trips:
| characteristic | Stationary oral irrigators | Portable oral irrigators |
| --- | --- | --- |
| Dimensions | Because of their size, they are suitable for use within the apartment. They have a capacious tank (0.6-1 l), which allows the procedure to be carried out by several family members. | Compact and lightweight. Tank volume — 130-200 ml |
| power | 100-650 kPa | 100-520 kPa |
| nutrition | Mains voltage 220 W | AA batteries, accumulators |
| Equipment | Equipped with several standard nozzles, which can have color markings. The delivery set can include special nozzles: for cleaning the tongue, orthodontic structures, for cleaning crowns, nasal cavities, etc. | As a rule, they are equipped with two nozzles: high and low pressure. No additional nozzles are provided |
Which oral irrigator to choose for implants? When choosing a device, we advise you to pay attention to its main characteristic - the pressure that creates a hydraulic pump. As a rule, for effective hygienic procedures, a pressure of 550 kPa is enough (in portable models, this indicator should be at least 520 kPa). Another important characteristic is the number of pulsations per minute. We recommend choosing devices in which this value is at least 1200 pulsations per minute. The optimal choice is a device with smooth head adjustment. All of the above is true for those who are looking for an answer to the question "which oral irrigator to choose for braces".
As a professional manufacturer of electric toothbrush and oral irrigator/water flosser, Shenzhen Relish provides various types of electric toothbrush wholesale and OEM customized services. You can also wholesale water flosser/oral irrigator from Relish at factory price. We can provide you highly competitive prices and look forward to working with you.