Shenzhen Relish Technology Co., Ltd. was established in 2012. It is a comprehensive enterprise integrating research and development, design, production and sales of electric toothbrushes and toothbrushes. At the same time, it provides customized services of toothbrushes and electric toothbrushes, the company covers an area of 6000 square meters and has more than 200 R & D and production personnel. Its products have passed many international quality inspection Certifications. It won the national high-tech enterprise honor and hundreds of product patents in 2016.

Relish obtained certificates issued by the state and all kinds of test qualified reports
The company has passed ISO9001/ISO13485 system certification and FDA certification registration; The main products include Sonic electric toothbrush, intelligent toothbrush, toothbrush disinfection box, etc. The products have obtained CB, CETL, FCC, CE, PSE, FDA, ROHS, SGS, ERP, LFGB certificates can provide customers with high-quality and detailed products and services. The products are exported to the United States, Europe, Japan, South Korea and other places. Since 2015, we have established long-term cooperative partnership with world-renowned supermarkets such as Wal-Mart, takitt, and basiquan.

Display of some brands cooperated with Relish technology
Cooperation mode of electric toothbrush customization
The appearance, structure and electronic parts design of the customer-supplied products, Shenzhen Relish Technology Co., Ltd. is responsible for the product mold design, mold production, plastic injection molding, electronic parts procurement, incoming material detection, processing, assembly, testing, packaging and other production tasks, at the same time, the brand side is required to have the intellectual property rights of the product. Without the authorization of the brand side, Relish Company has no right to provide the production service of this product for the brand side.
Prerequisites for cooperation in customization of electric toothbrushes
1. The brand Party shall provide the legal ownership certificate of the brand;
2. The brand shall ensure that the appearance, structure and other product elements provided by the brand do not have infringement; If there is infringement, the brand shall bear all responsibilities;
Electric toothbrush customization cooperation process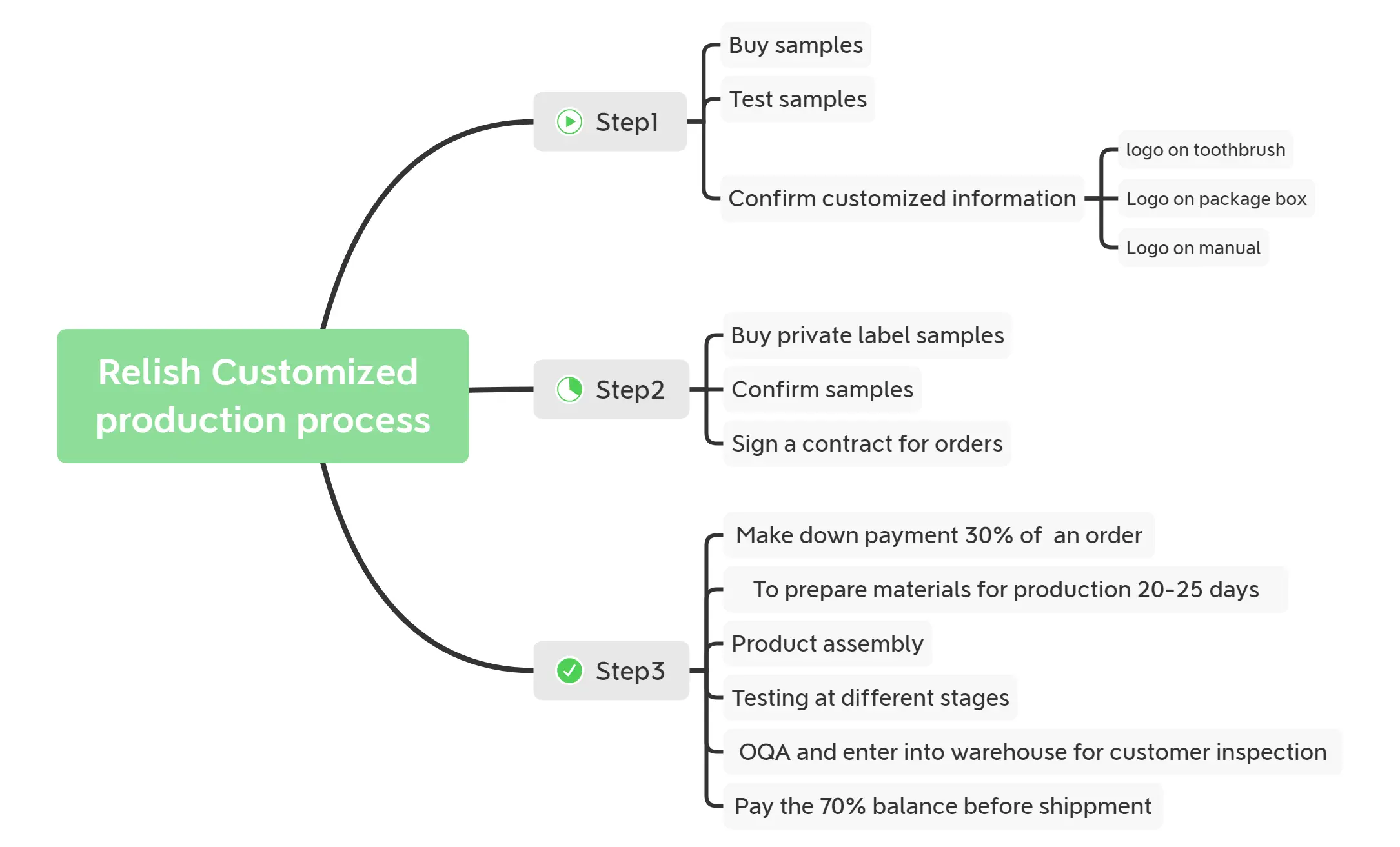 1. Consult and specify the requirements: cash selection, drawing and sample output, Picture/LOGO, color customization and demand communication.
2. Signing the contract: Requirements: function, material, craft, agreement: business terms, delivery date, acceptance criteria.
3. Sample production: make samples within 7 days and provide them to customers for trial use, 5-day trial report, communicate details and confirm standards. Orders can be delivered on time within 35 days at the earliest.
4. Quality Inspection: 1>. Finished product inspection; 2>. Overall inspection; 3>. Reliability test; 4>. Sampling inspection.
5. Payment and delivery: 1>. Customer inspection; 2>. Payment; 3>. Door-to-door delivery.
All our products can assist brand owners in product testing and certification, and help your electric toothbrush brand establish and promote quickly.
Issues that should be paid attention to when selecting excellent customization manufacturers
The biggest difference between self-owned brand electric toothbrush production and electric toothbrush production lies in the quality control system. The production of self-owned brand electric toothbrushes generally has its own electric toothbrush processing factory, a relatively strict quality management system, and a relatively strict quality control for each link of production.
Many small and micro enterprises will choose some small workshop-style processing plants to process their own products. The processing cost is relatively low and the cost is saved, but the quality control is not strict enough, and there are many quality problems in the products produced. Therefore, companies that want to customize electric toothbrushes must carefully choose their partners, and it is better to go to the factory for field investigation.
Relish has a complete and scientific quality management and production system, has a management, research and development, sales and production team with rich industry experience, has independent product research and development design, mold design and manufacturing, injection molding production, electronic assembly, production and other capabilities, equipped with complete mold manufacturing equipment, injection molding equipment, experimental testing equipment, assembly production equipment workshop, etc.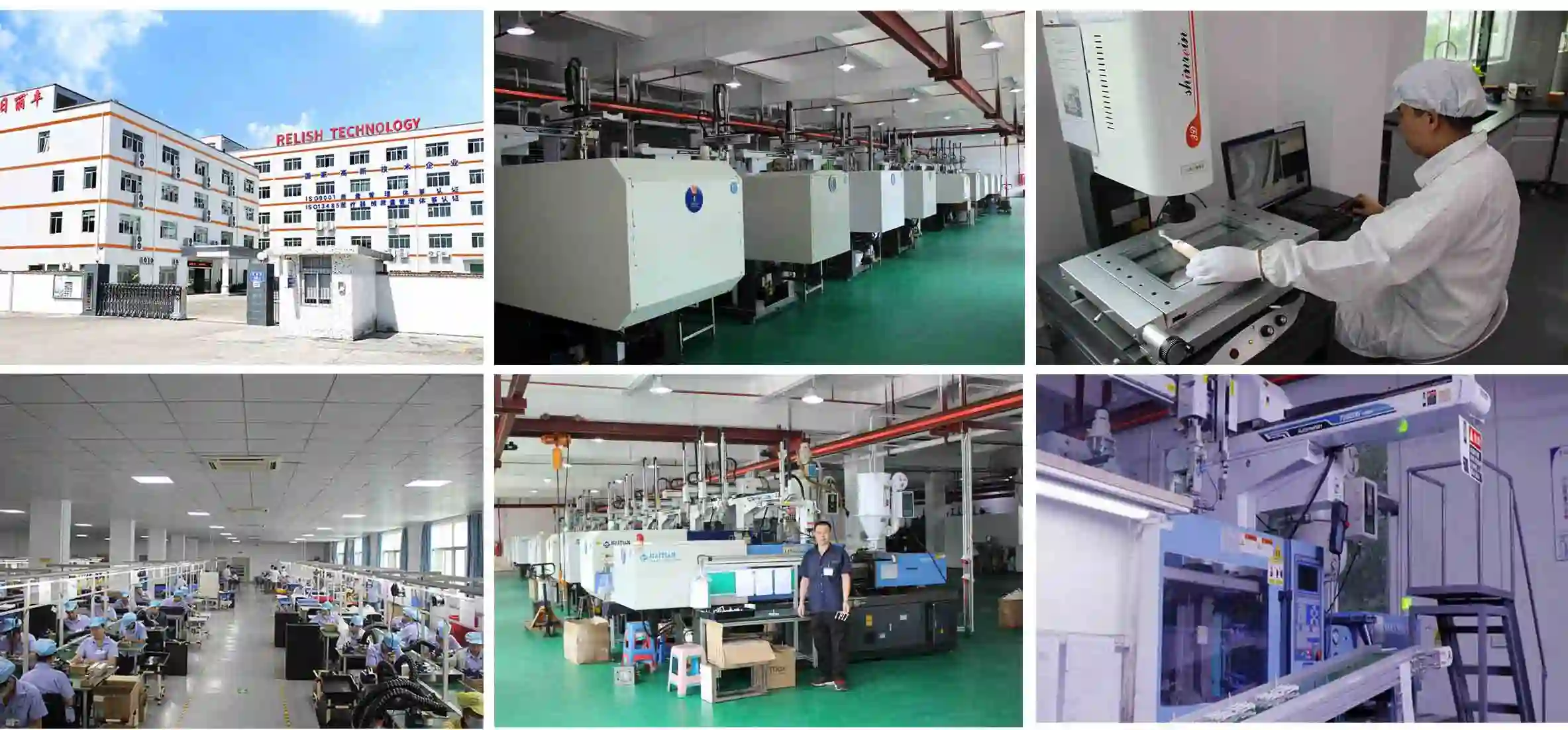 The company is located in Shenzhen, where transportation and logistics are developed. We welcome the cooperation of many traders, distributors, agents, gift companies and other aspiring people. The cooperation Hotline +86 137 9498 9121 ,+86 0755 8933 9275
As a China Manufacturer, supplier, factory of electric toothbrush and oral irrigator/water flosser, Shenzhen Relish provides various types of electric toothbrush wholesale, dropshipping and OEM services. You can also wholesale water flosser/oral irrigator from Relish at factory price. We look forward to working with you.